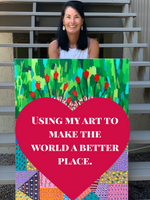 Hi there! Thanks for stopping by my website. You are always welcome here. Below is a little information about why I love being an artist based in the Lowcountry of South Carolina.
I live on a barrier island outside of Charleston, South Carolina. Much of my inspiration is gained from time exploring the lush green marshes and walking on Seabrook Island's pristine beach.
My creative story focuses on making art that brings people together in Hope and Love. In the last few years, my mission has been to use my artwork for a greater good. This means using my time and talents to advocate for causes near and dear to my heart. Protecting the Environment by using sustainable materials and following eco friendly practices is one way. Championing for greater mental health care for Nurses is another. In addition, supporting women making fresh starts is also a priority. Creating artwork and organizing large collaborative art projects that uplift and inspire others is an honor I take seriously. I absolutely love what I do and I value the people I meet along the way.

Besides making individual pieces of art, I have also had the honor of leading large collaborative projects. Below are four big projects I created and organized that I am very proud of. (The Together While Apart Art Project, The Together While Apart Thank You Nurses Campaign, he fresh stART art project and the Love Is 🤍🤍🤍 Book.
These are a few of my favorite creations. Be sure and check out all my pieces in my other collections too.
---
Enjoy My Other Fun Collections Here. I hope these pieces make you smile!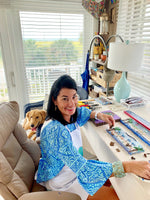 I Would Love To Hear From You!
If you see a piece of artwork that you are interested but it is unavailable, please let me know. I would love to work with you and create something perfect just for you.
Contact@DeaneVBowersArt.com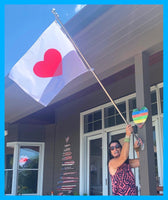 I Begin Each Day From My Heart!
I feel fortunate to be able to do what I love and then use it to make my little corner of the world a better place. I strive to be a good human and to use my art to lift others up. Please enjoy my Blog Posts that celebrate life and everyday heroes. 💚