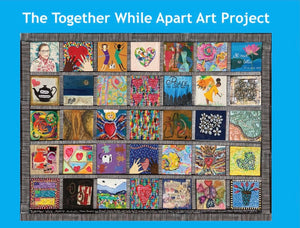 The Together While Apart Artwork Poster (with blue border)
Regular price $25.00 Sale
This poster is a high quality copy of the original Together While Apart Artwork. Poster dimensions are 18" x 24"
$25. All proceeds will go to The American Nursing Association's Wellness Initiative. 
https://givetonursing.networkforgood.com/projects/159204-together-while-apart-fundraiser
A word about The Together While Apart Project. This Art Project was organized by Deane Bowers and included 18 other artists from over 8 states who represented both coasts. This online community was formed during the pandemic to combat the isolation and loneliness many were experiencing. Each artist contributed a square, a 6" x 6" piece of repurposed cardboard. The cardboard squares were originally shipping boxes in Deane's garage. No two squares are alike and some artists contributed more than one piece. None of the participants knew what the other squares looked like when they created their own work. Deane was responsible for joining each piece together to form a beautiful, cohesive tapestry of color. The mission of this project is to promote hope and healing and to remind others that together, even while apart we can do great things. 
The (original) Together While Apart Artwork measures 36" x 48". It is on a 10 month exhibition tour and will be permanently installed at The University of Virginia Medical Center in June of 2022. This piece is dedicated to all  healthcare professionals who showed up for work everyday during the pandemic. They are true heroes and we thank them for their service. 
The Together While Apart Art Project has been included in The Smithsonian's online exhibit "Stories of 2020."