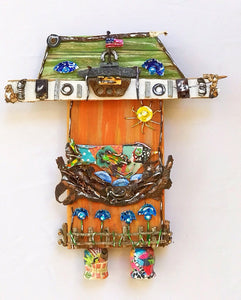 Sweet Clementine
Regular price $175.00 Sale
This one of a kind piece is based on using salvaged wood and various discarded materials collected from the streets of Charleston. Created solely from reclaimed, repurposed and recycled items, the creative reuse of each object is far removed from their original purpose. By layering broken, twisted and fragmented materials in a texturally rich sculpture, details are abundant and are accentuated by bright, vivid colors.
One of the coolest details of this piece is the twisted metal scrap that has been repurposed as the bird's nest and accented with little Robin's eggs created from rusted bottle caps. 
This piece is meant to be hung. 
Dimensions: 12" x 14" x 2"