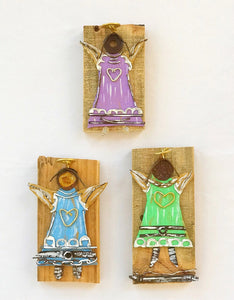 Send Me An Angel
Regular price $0.00 $55.00 Sale
Everyone needs a Guardian Angel and these earthly Angels are sure to comfort and delight.
The Found Object material and the salvaged wood were deliberately chosen and used as a reminder of second chances, fresh starts and new beginnings. Deane imaginatively utilizes discarded items and gives them a completely different use than their original purpose. Through her art, she shows that even the most rusted, fragmented or broken things can have a creative reuse and an alternative purpose. 
Can be purchased separately or as a set. If purchasing just one, please indicate color. These are meant to be hung and enjoyed all year long. 
****Purple Angel only one available***
If you would like to place an order for a specific color, please email me at deanevalentinebowersart@gmail.com. 
**Green Angel and Blue Angels  are no longer available**
Dimensions: (Each one) 4" x 7" x 1"