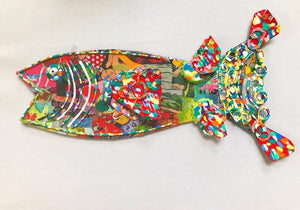 Mixed Media Fish (Large #1)
Regular price $0.00 $70.00 Sale
Made from vibrant paper collage, broken wire, coat hangers, bottle caps, pull tabs and metal scraps, this Mixed Media Fish celebrates color and creative reuse. Who would have thought a pull tab or a bottle cap could be repurposed as a Fish gill? Or broken coat hangers serve as the outline of the Fish? The bright colors were chosen with much care to compliment the reclaimed items and to create an unusual balance of industry and art. The paper collage was created from recycled magazines and old catalogs and images were selected based on their bright graphics. An old cardboard box serves as the base of the Fish. 
Deane hopes to challenge viewers to see if they can locate and identify the various recycled materials used in hopes of gaining new appreciation for their artistic value. By creating sustainable art like this Fish, Deane is caring for the Environment by taking yesterday's trash and turning it into today's art. 
A perfect addition to any room and can be hung outdoors in a covered area. 
Dimensions: 12" x 4" x 1/4"