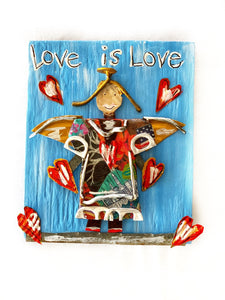 Love is Love
Regular price $65.00 Sale
There is no better message than "Love is Love." The sweet little Angel surrounds herself with bright red hearts (made from an old can) as a reminder the love is all around. 
The little Angel is created from repurposed cardboard and covered in a paper collage made from colorful magazine scraps. Wire, broken coat hanger pieces, pull tabs and metal scraps give her definition and detail. She sits on a piece of salvaged wood painted in soft shades of blue. 
This would be a perfect gift for a new baby, a bride or anyone who loves art with a message. I love custom orders and can create a version of this piece in any requested colors, size and include a specific message you might like. 
Dimensions: 5" x 5 1/2" x 2" 
$65 plus shipping.