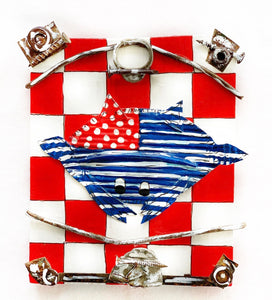 Blue, White and Red Crabby
Regular price $80.00 Sale
Each piece of art I create is a reflection of the journey I have taken to discover my truest voice and to feel comfortable and confident in my own skin. Every one of my creations has a story behind it, because the materials they consist of have all had journeys to end up discarded and abandoned. My art is so much more than the "junk" it is made out of. And we are all so much more than just our past experiences. We each have our own intrinsic magic, just like the materials I use. By creatively exploring the potential of these Found Objects, I bring out the best in them and they in turn bring out the best in me. I hope to inspire, uplift and reaffirm to others that we can all have more than one significant role and purpose. The dull, lifeless materials I find discarded in the streets are a constant reminder that second chances are always possible. And by bringing our brokenness together to create a brand new whole, there is renewal and beauty once never imagined. If an imperfect, street worn, damaged piece of wire can be born into something new, so can we. I strive every day to use my art to reflect this message and to offer hope to all that come in contact with it. Through the materials I use, I want to enrich the lives of others by giving them the confidence and encouragement to flourish and start again, in spite of their past. I hope you will enjoy this fun piece. Have a good time finding all the various items used.
Materials: salvaged wood, wire, metal scraps, bottle caps, pull tabs, nails, screws, nuts and bolts, washers, broken coat hangers, cardboard, tin cans and more.....
Dimensions: 6" x 6 1/2" x 3/4" 
$80.00 plus shipping